FACILITIES

At BrightSmile Dental, we offer the latest technology
and equipments available in todays dentistry.
Most patients fear dental pain, which is our main concern.
We strive to provide a pain-less dentistry to every patient
with gentle personal care backed by fine tools and equipments.
Modern, Comfortable and Cosy Practice Setup

OUR TECHNOLOGY AND EQUIPMENTS
STATE of the ART DENTAL CHAIRS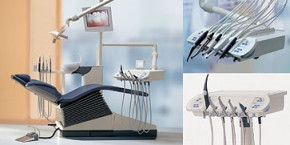 MODERN PRECISE AND SILENT EQUIPMENTS

Kavo PROPHYflex Polishing System

Dental RADIOGRAPHY

Intra-Oral CAMERA
DIGITAL PHOTOGRAPHY

AUTOCLAVE - Cross Contamination Prevention
Fully Integrated Computerized Patient Management System
Modern and Fully Equipped DENTAL LABORATORY FACILITIES
Advanced Ceramic / Porcelain and Acrylic/Chrome Dental Laboratory facilities
are available, equipped with highly trained and experienced technicians to perform
complex lab procedures such as
-fabricating Crowns, Bridges and Dentures to suit individual patient needs.
All systems are computerised, so that doctors and technicians can work more efficiently.
Most Cosmetic Dentistry cases are sent with a digital photograph of patient,
so that the technician will know what the patient / doctor wants.
Waiting time is kept at minimum as possible for all laboratory cases.
Public Transport and Parking Facilities
Easy access through Public Transport and Light Rapid Transit (LRT) System
Ample of parking space available